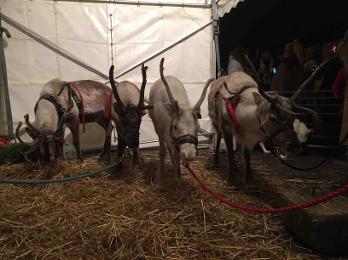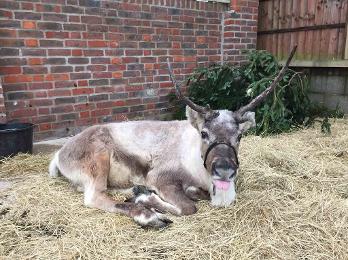 COMET
Comet joined the herd in the summer 2014 and is our second sleigh pulling Reindeer, learning the ropes from Cupid. His is silver, super fluffy and our strongest Reindeer often trying get up some speed with the sleigh so he a enjoy frightening Santa!
VIXEN
Vixen is our feisty young chocolate coloured deer two year old Reindeer. His favourite past-time is to squeeze through the smallest of spaces in order to get to the closet food supply.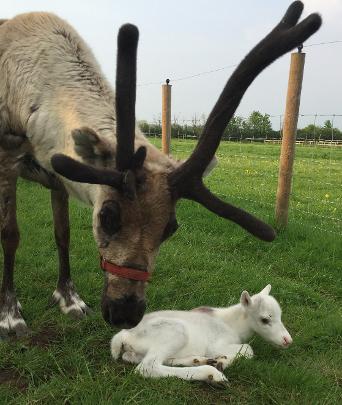 TWINKLE
This three year old came to us from Scandinavia in 2014 and is proving to be the boss cow. Her favourite past time is leaping around the barn, slamming on the brakes just before she crashes into you, tricking you into thinking you are about to get a body-smash cuddle. She has recently become a Mum and has taken to it like a duck to water.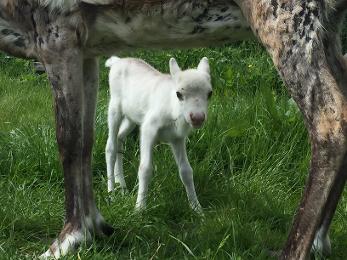 SNOW SPRINKLES
Sprinkles is the son of Twinkle and was the first to be born at the Ranch in spring 2016. He was born snowy white andis sporting a beautiful silver coat just like his Dad prancer. He will start his career as the Reindeer Ranch stud bull in 2017, therefore will not come on visits. He can be seen on open days here at the Ranch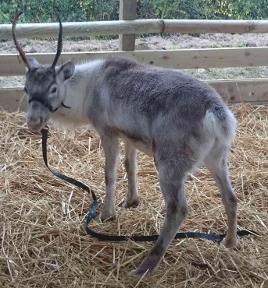 DEWDROP
She is our smallest Reindeer and born in the UK and promises to be one of our most beautiful, breeding Reindeer. She is still under training and loves nothing more than a mouthful of Reindeer moss in the morning.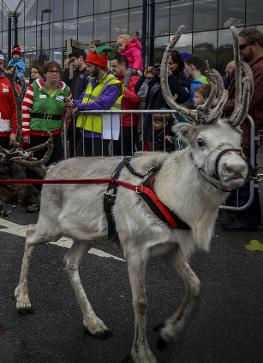 WINTER
Winter is our most special boy, with a very rare coat cover, white as the driven snow. Only one in ten thousand Reindeer are born white so we consider ourselves very lucky to have him living with us. He is in one of our sleigh pullers, and what a wonderful sight he makes! White Reindeer are considered to be lucky charms in Scandinavia.