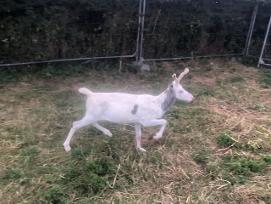 PRIDE
Here is Pride, she is the newest member of the herd, born in 2018, she is a sweetie and her favourite food is willow leaves. She will stay with us and hopefully partner up with Arthur when it is time for her to be a mummy.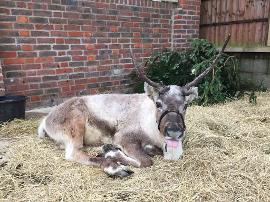 COMET
Comet joined the herd in the summer 2014 and is our second sleigh pulling Reindeer, and is mostly paired up with his buddy Winter. His is silver, super fluffy and our strongest Reindeer, often trying get up some speed with the sleighs, he thinks he is a racehorse and enjoys thrilling Santa!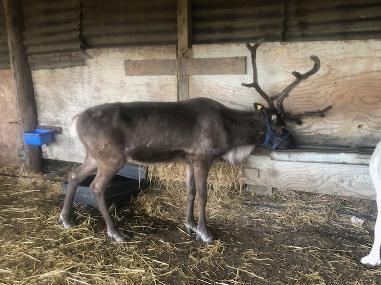 VIXEN
Vixen is our feisty, young ,chocolate coloured, two year old Reindeer. His favourite past-time is to squeeze through the smallest of spaces in order to get to the closet food supply.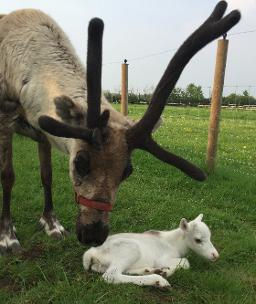 TWINKLE
This three year old came to us from Scandinavia in 2014 and is proving to be the boss cow. Her favourite past time is leaping around the barn, slamming on the brakes just before she crashes into you, tricking you into thinking you are about to get a body-smash cuddle. She has recently become a Mum and has taken to it like a duck to water.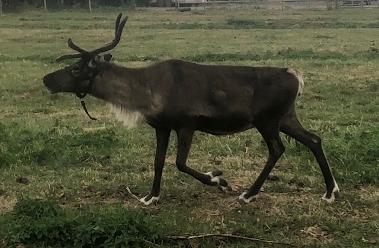 HOLLY
Holly is a new cow be brought in to the ranch in 2017 to widen our gene pool. She is currently paired up with young Arthur and we hope she will become a mummy in 2018. She loves sticking her head in the bushes and binging half of the greenery out with her!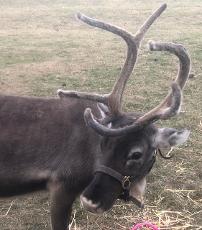 DIZZY
Here is Dizzy, she is our softest female and loves her moss! She is so friendly that we take her out to meet her adoring fans at Christmas time. She will be running with Arthur this year and we hope to see the patter of tiny feet in 2019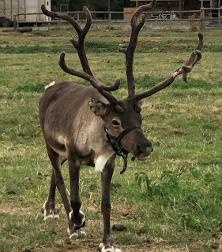 DANCER
Dancer is the new kid on the block and will be training to pull sleighs this year. he is a little shy but is always won over with a handful of fresh moss!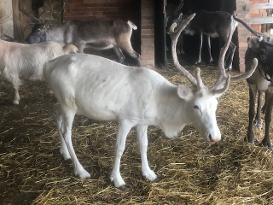 DASHER
This is Dasher son of Sprinkles, born in 2017 and now one of our stud bulls. He is pure white, very, very friendly and sports a lovely pale set of large antlers. He loves his ears being scratched and blows into your nose like a pony.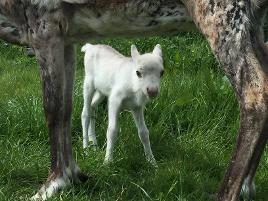 SNOW SPRINKLES
Sprinkles is the son of Twinkle and was the first to be born at the Ranch in spring 2016. He was born snowy white and is sporting a beautiful silver coat, just like his Dad Prancer. He started his career as the Reindeer Ranch stud bull in 2017, therefore will not come on visits. He can be seen on open days here at the Ranch and is father to Dasher, Harry and Pride.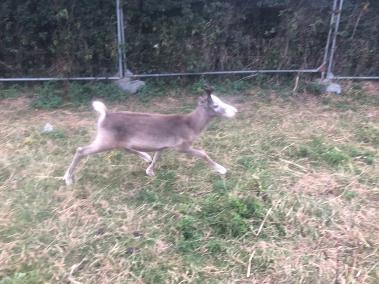 HARRY
Little harry was born on the Royal wedding day so was aptly named after Prince Harry. He loves nothing more than a carrot and a cuddle.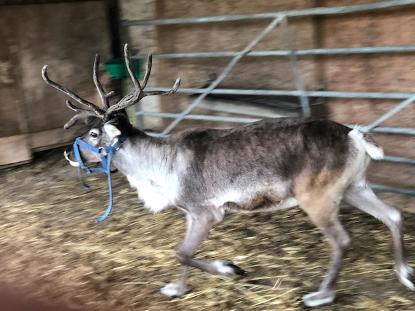 DEWDROP
She is our smallest adult Reindeer, Born in the UK and promises to be one of our most beautiful, breeding Reindeer. She is still under training and loves nothing more than a mouthful of Reindeer moss in the morning. She is mum to Dasher.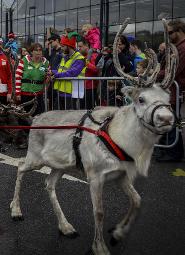 WINTER
Winter is our most special boy, with a very rare coat cover, white as the driven snow. Only one in ten thousand Reindeer are born white so we consider ourselves very lucky to have him living with us. He is in one of our sleigh pullers, and what a wonderful sight he makes! White Reindeer are considered to be lucky charms in Scandinavia.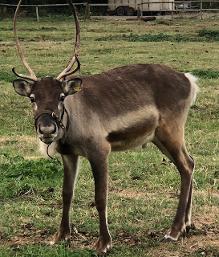 ARTHUR
Arthur is the new bull who arrived in 2018 and is now joint king with Sprinkles. We needed a new bloodline for our breeding programme so he is paired with Dizzy and Brandy. He does not leave the ranch but enjoys the life of luxury with his girls here in Somerset!