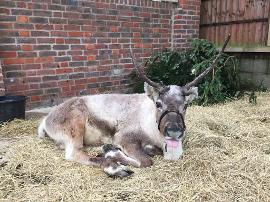 COMET
Comet joined the herd in the summer 2014 and is our second sleigh pulling Reindeer, and is mostly paired up with his buddy Winter. His is silver, super fluffy and our strongest Reindeer, often trying get up some speed with the sleighs, he thinks he is a racehorse and enjoys thrilling Santa!


BLITZEN
Our latest baby, daughter of Sprinkles and will remain at the ranch and hopefully produce more babies like herself.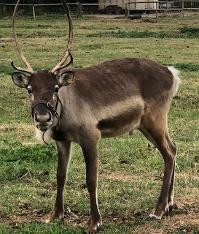 ARTHUR
Arthur is the new bull who arrived in 2018 and is now joint king with Sprinkles. We needed a new bloodline for our breeding programme so he is paired with Dizzy and Brandy. He does not leave the ranch but enjoys the life of luxury with his girls here in Somerset!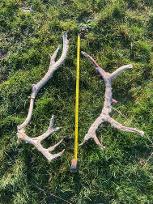 SPRINKLES
Sprinkleswas the first to be born at the Ranch in spring 2016. He was born snowy white and is sporting a beautiful silver coat, just like his Dad Prancer. He started his career as the Reindeer Ranch stud bull in 2017, therefore will not come on visits. He can be seen on open days here at the Ranch and is father to Harry and Blitzen.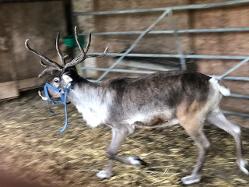 DEWDROP
She is our smallest adult Reindeer, Born in the UK and promises to be one of our most beautiful, breeding Reindeer. She is still under training and loves nothing more than a mouthful of Reindeer moss in the morning. She is mum to Blitzen.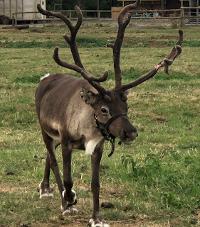 DANCER
Dancer is the new kid on the block and will be training to pull sleighs this year. he is a little shy but is always won over with a handful of fresh moss!